Overview
Available as an add-on for all SEDNA Editions, this feature safeguards regulatory compliance by easily identifying, tagging, and removing Personal Identifiable Information (PII).
Benefits of SEDNA Personal data removal
Instant, automatic compliance with GDPR / CCPA regulations

Take control of your compliance with additional manual flagging

Reduce IT time spent on build and maintenance of solutions

Safeguard the personal data of your employees
Functionality
Scan, identify and remove in one automated workflow

Define set time frame for message removal

Cover incoming and outgoing messages

See messages in queue to be removed via a dedicated search token
Plan availability
This feature is available for all customers through an add-on. Please consult your Customer Success Manager for more information.
Using Personal Data Removal - Step by step instructions
Simply compose an email as normal within SEDNA.

If your email contains PII as defined

here,

'PII identified banner' will appear in your Email view as below:

The email will automatically be deleted from your system in

XXX

days. The default value can be changed by contacting the SEDNA Helpdesk.

[implementation checklist]

If you do not wish the email to be deleted you can click on the 'Do not delete message' link on the screen and you'll be presented with an option to prevent the deletion of the message: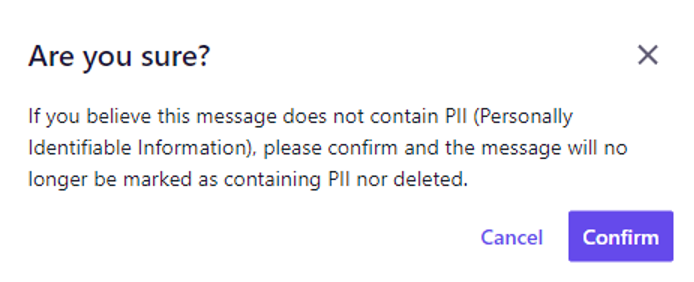 List of PII detectors
30+ types of detectors supported
Crew lists

Covid-19 PCR test reports

Covid-19 vaccine passports

Body temperature reports

Work permits

Credit card number *

Bank Account number *

Routing number *

Race *

Gender *

Religious Views *

Sexual Preference *

First Name

Last Name

Address

Profile picture - face

Date of birth *

Phone *

Email

City *

Country *

Country Code *

Health *

Health ID *

World Health Organisation

ICD codes

IP Address

User Name *

Password *

ID Scan

Driving License Number *

Passport *

Tax ID *

National / Social Security Number *
*Select regions and formats apply. Additional detectors can be requested (chargeable if not part of our standard set of detectors)
Frequently Asked Questions
What is the criteria for PII to be found in a message?
We scan the full message, including the subject line and message body and all attachments included in an inbound or outbound message.
Why do some messages get flagged and others do not even though there is PII in both?
PII is flagged in messages based on two criteria; the type of PII and the amount that is present. The former is determined by the detectors set up and the latter is determined by the severity set up. There are three levels of severity; LOW, HIGH and CRITICAL.
What is severity?
Severity is a property of an entire "document" and in this case, a document consists of a .eml file and potentially one or multiple attachments. A document is classified as CRITICAL (or HIGH, LOW…) based on what PII was found inside, and how much of it.
For example, if a single name is found in a document, that document will be classified as severity LOW. But if there are 1,000 names, the severity will be CRITICAL. If there is one name, but also an address, the severity may be HIGH.
So the severity classification is not a function of a single detector. All the detections combined, over the whole document, give the final severity class of each message. As standard, severity is set to HIGH but if you want to discuss changing this, please contact customer support.
I want to roll out PII team by team. How does this work?
If an email is sent to a team which doesn't have PII enabled, then it won't be scanned.
However, because there is only one copy of each message at SEDNA, that means if a team sends or receives a message which has the PII feature enabled and another team that doesn't has access to that mail (i.e.. if the message is shared with them or if they are included in the message headers (to, from, cc, bcc), it will still be scanned for PII. In this scenario, all teams will see the PII scan cards and can mark the message as containing or not containing PII. When the message is removed, all teams will see the removed message.