Colours are used here to convey different meanings throughout SEDNA. This allows SEDNA users to quickly scan their mailbox and easily identify what has been looked at, what hasn't, what needs their immediate attention.
MESSAGE LIST:
Red Solid Line

:

No one on the team has seen the message, including you.
Red Double Line:

One or more members of your team has viewed the message.

Orange Double Line

:

You are following the message. This also applies if someone in your team has assigned you to that Notes as opposed to normal emails. 
No Line

: No colours on either side of the message indicates that the message has been read by you and others in your team and that you have not followed that message.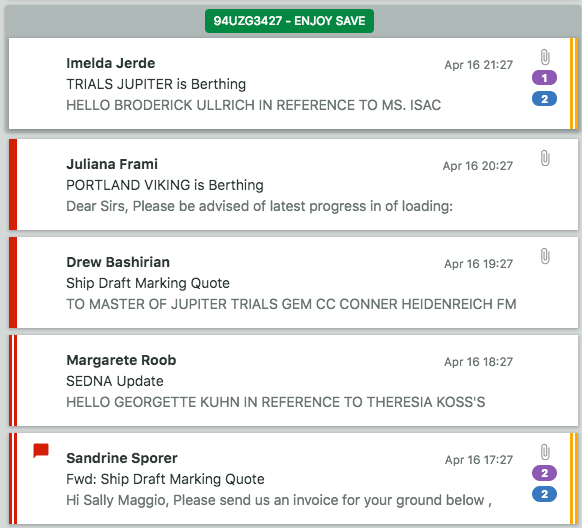 TAGS
Green:

 Job References are always represented as green tags throughout SEDNA. 

Blue:

 Category tags are represented by the colour blue.

Purple:

 People or Teams are represented by purple tags. This applies to individuals in your team who can be assigned to messages, or to address book members.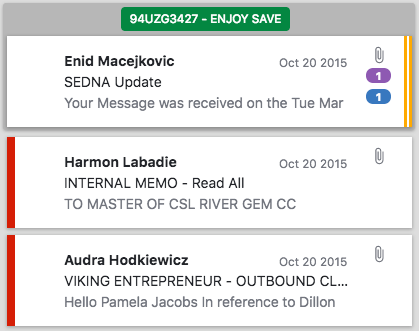 Further Information
Additional information on our recent changes to colours in SEDNA can be found here: http://bit.ly/2uPHOlo
More specifically, the colours for Topics (charcoal), Jobs (green), Category Tags (blue), read and activity (red), and following (orange) have been minorly adjusted to be more harmonious together. The People tags have been moved away from orange and are now represented with purple.