SEDNA provides users with three methods to add attachments when composing a Message or Note. To learn about adding files to Notes, visit the article here.

Clicking "Add from SEDNA" gives access to the full power of SEDNA search. This allows users to attach any and all documents they have access to in SEDNA. The user can search by text, subject line, to/from, as well as SEDNA data such as categories and job references.

Clicking "

Attach File" allows users to

upload documents directly from your computer or mobile device.

The "Drag-and-drop" method allows dragging and dropping files from your computer into the attachment area at the bottom of the compose area. Note: this feature is not available on mobile.
"Flexdocs" allows users to add documents with relevant tags to messages. For information on Flexdocs, visit the article here.
Notes:
Message size including file attachments is limited to 18MB in Compose to ensure the Message will not exceed 20MB and thus send successfully. In the event of an attachment exceeding 18MB please refer to the below section Large Attachments
Previews are available for supported file types: PDF, EML, JPG, BMP, GIF, PNG, XLSX, DOC, PPT and TIF (only on Safari as Chrome and Firefox don't support TIF)
Option 1: Add from SEDNA
Select Add from SEDNA.
Search for the attachment, or message, from the side panel. You can search by text, person, category tag, etc.
Select the attachment by clicking the + sign next to the attachment.
At the bottom of the side panel, click add as attachment or add as link.
Note: SEDNA allows users to preview message content in a separate, adjustable window as shown below.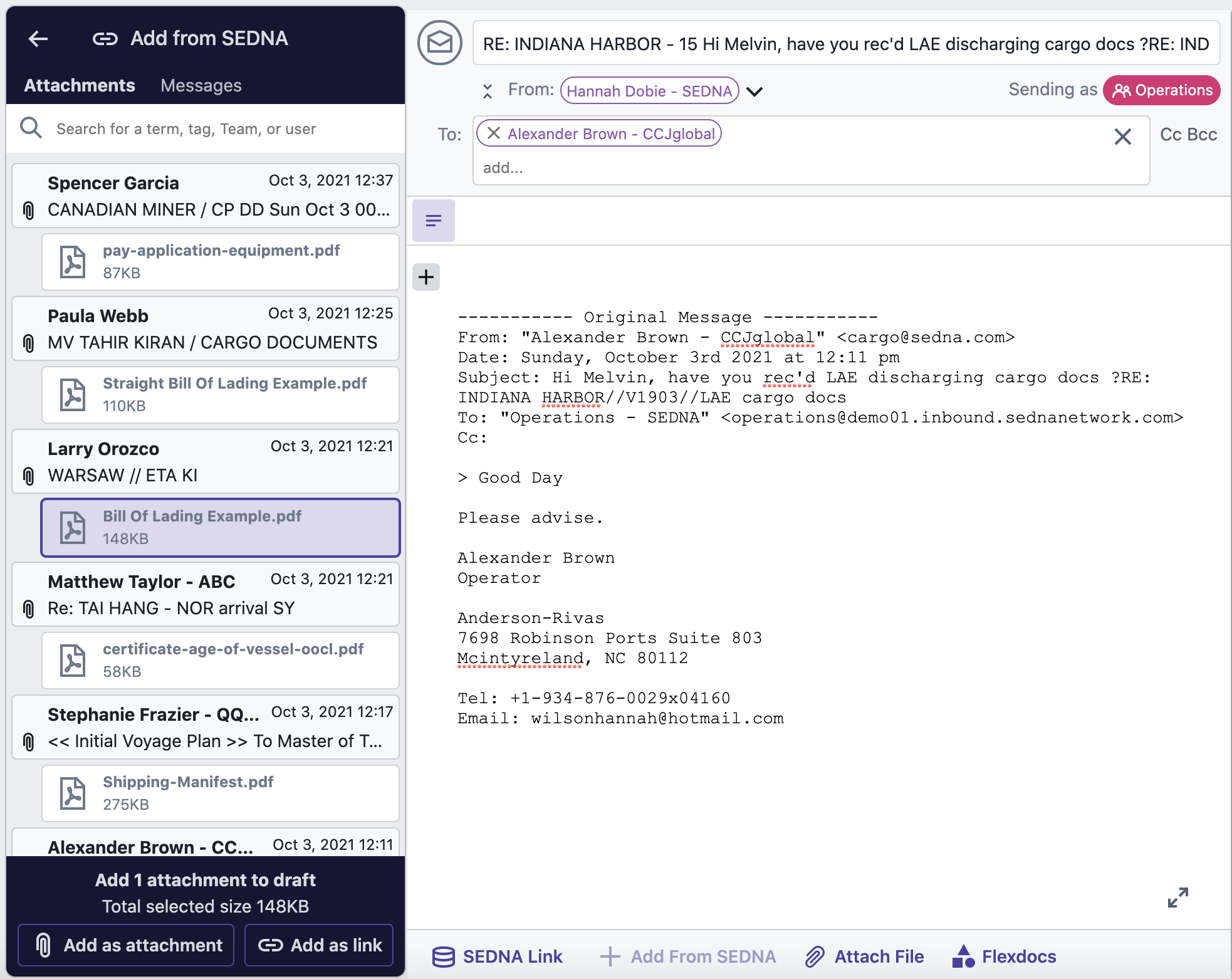 Note: Currently, Messages cannot be added as File Attachments.
Option 2: Attach File
Click Attach File.
Select the file from your device that you wish to attach and click Open.
Once the attached file has loaded, it will appear at the bottom of the Compose Message pane under the previously used Attach File icons.
Option 3: Drag-And-Drop
Open a new Compose Message.
Find the file you would like to attach and drag the icon on the Compose Message pane.
Once the File has loaded, it will appear at the bottom of the Compose Message pane under the Add From SEDNA and Attach File icons.
Large Attachments
SEDNA will automatically convert large file attachments into shareable links. When adding attachments that exceed the 18MB threshold, SEDNA will alert the user that the attachments will be converted to links. The user will then have the option to cancel and resize, or send as links.