The Notes feature is designed for the creation of content that is not meant as a message (such as internal notices), and is not ready to become a message yet (such as drafting out a proposal).
Notes will appear in the Message List as shown here:

Create a New Note
Select the Ellipsis button beside the Create button in the sidebar.


Select Create New Note (or hit hot-key n on your keyboard) and begin creating your content.
To Save your draft Note, click Save at the bottom of the SEDNA window. When you're ready to publish the Note, click Publish at the bottom of the SEDNA window. This will make the note visible to all teams and users it has been shared with.

Share a Note to Users or Teams
Notes support the ability to tag individual users, or an entire team. Until another user or team is tagged on a Note, it will only be visible to the user who created it. Users can tag other users on a Note through the Message List, or from within the Note. To untag a user or team, follow the same steps.
To share a Note with Users or Teams:
Click into the Note you wish to share.
Click on the Share icon in the top right of the Note.
Search for the team or individual you want to share the Note with and click on the relevant option in the dropdown.
Confirm sharing the note with the user(s) and/or team(s) selected by clicking Share Note.

Note: the user(s) or team(s) that the Note is visible to will be shown to the left of the Share icon, either in the top right of the Note in the Message List, or the top right of the Compose view.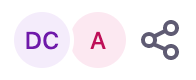 Add Attachments to a Note
Users can add attachments and links into Notes via Add from SEDNA, drag & drop from your computer, or through your operating system's file manager by clicking the Attach File button.
When images and messages are added as links, they will be automatically inserted in-line within the Note, allowing users to include richer content within their Note.