SEDNA, like most email systems, has a maximum message size that can be sent or received:
Outbound Email - 30MB, including attachments
Inbound Email - 40MB, including attachments
Note: Message size, including file attachments, is limited to 22.5MB when composing to allow for any compression rules that may inflate the message above 30MB. An error will appear when the message exceeds 22.5MB.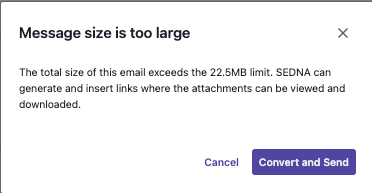 Large Attachment Workflows
Adding Attachments
On outbound messages, composed within SEDNA, the user will be prompted to automatically convert large file attachments into shareable links. When adding attachments that exceed the 22.5MB threshold, SEDNA will alert the user that the attachments will be converted to links. The user will then have the option to cancel and resize, or send as links.
All methods for adding attachments can be found in this knowledge article, Adding Attachments.
Note: Converting to links only applies to attachments and not large messages.
Share from SEDNA
SEDNA provides a feature, Share from SEDNA, that allows larger volumes of data to be shared externally, including the ability to share large numbers of emails.
Details on this feature can be found in this knowledge article, Share from SEDNA.