Quick Add to Contacts
Contacts that are in the SEDNA Address Book are represented in purple. This allows users to quickly identify addresses they frequently do business with. Within a message users can quickly add a contact to the address book so that it will show as a purple, friendly address.
In this article you will learn:
How to Add a Contact 
1. From the Message body click on a grey address in the To, CC, or BCC field. 
2. Click "ADD TO ADDRESS BOOK"
3. Choose "UPDATE EXISTING" to create a brand new contact or "CREATE NEW" to add the address as a new contact. 

Updating an Existing Contact
1. Search for the contact you wish to add the new address to
2. Click the purple contact after the search returns your result
3. Click Update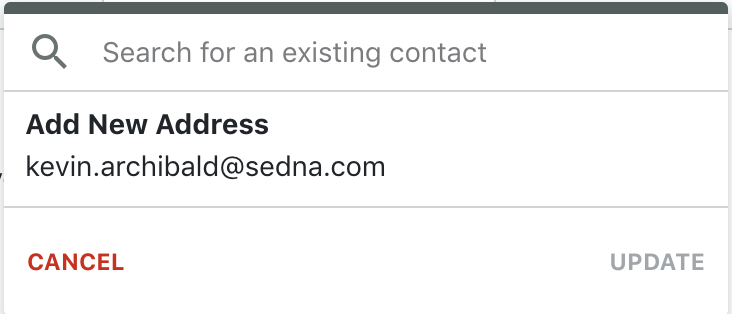 Creating a New Contact
1. Enter First and Last name of the contact
2. Optional - Fill out Company name of the contact
3. Click Create