SEDNA allows you to share messages with external collaborators that are not SEDNA users. This provides the opportunity for external parties to view and add comments on messages within SEDNA.
Note: collaborators will only see comments or messages that internal SEDNA users have expressly agreed to share with them. See below for more details.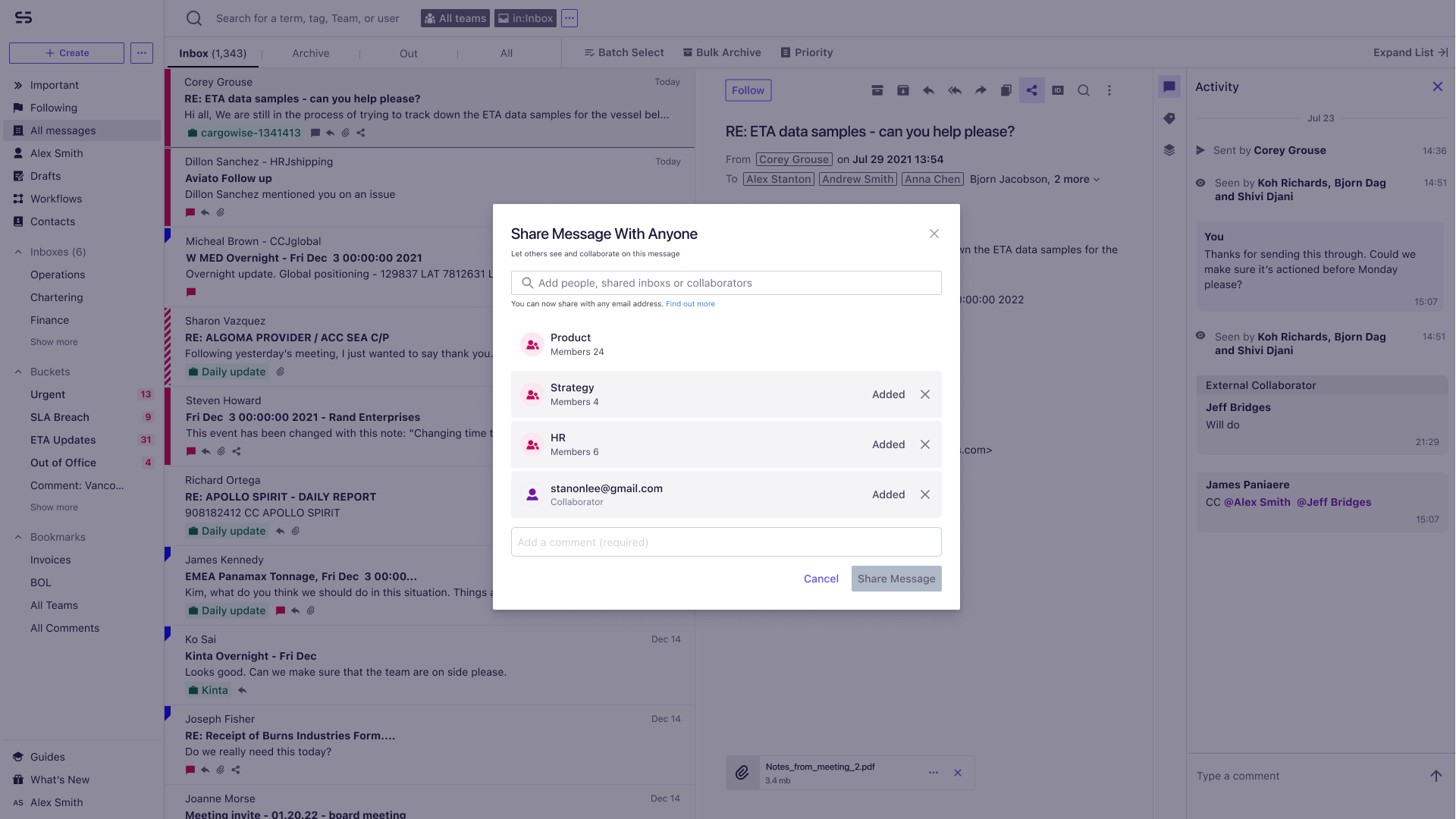 In the message that you wish to share, click the share icon (

) located above themessage on the right, next to the message ID.

In the pop up, review which users and teams already have visibility for the message and search for the collaborator that you would like to share the message with. Alternatively, type the email address you would like to share the message with.

Click on the collaborator you would like to add, or X if you no longer wish to share the message. Once the message has been successfully shared, the name or email address of the collaborator will show as Added.

Enter a comment for the collaborator (required).

Click Share Message
The email address you are sharing the message to will receive a message inviting them to be a collaborator on this message via a free-access, browser-based SEDNA collaboration space that allows collaborators to see, respond to, and comment on shared messages.
Click here to learn more about Receiving and Sending Comments As a Collaborator.
Activity Panel and Collaborators
Once a collaborator has been added to a message, they will be able to view that message in their SEDNA collaboration space, and add comments through the Activity Panel. They will also be able to view any comments that have been shared with them in the Activity Panel.
If a message has been shared with a collaborator, new comments made on the message by SEDNA users will show the "Send externally" confirmation box.

If the "Send externally" box is checked, the new comment added by the SEDNA user will be visible to collaborators with access to the message.

If the "Send externally" box is left unchecked, only SEDNA users with access to the message will see the new comment.

The Activity Panel will indicate which, if any, users that have left a comment are external parties (collaborators).