Incoming and outgoing messages are displayed on the left-hand side of the SEDNA window. Messages, by default, are displayed in chronological order as newest to oldest.
Within the Message List there are certain actions you can perform on a message. Simply clicking on a message in the Message List will load that particular message in the Preview.
Messages in the Message List will be grouped by green Job Reference tag if they are in chronological order.
Message List Actions
There are two ways to select multiple messages at a time.
1. Select a message then press 'Shift' and select a different message in the list. Both messages you clicked will be selected along with any messages positioned in between them in the list. This is beneficial if there are many tickets in a row that you would like to select.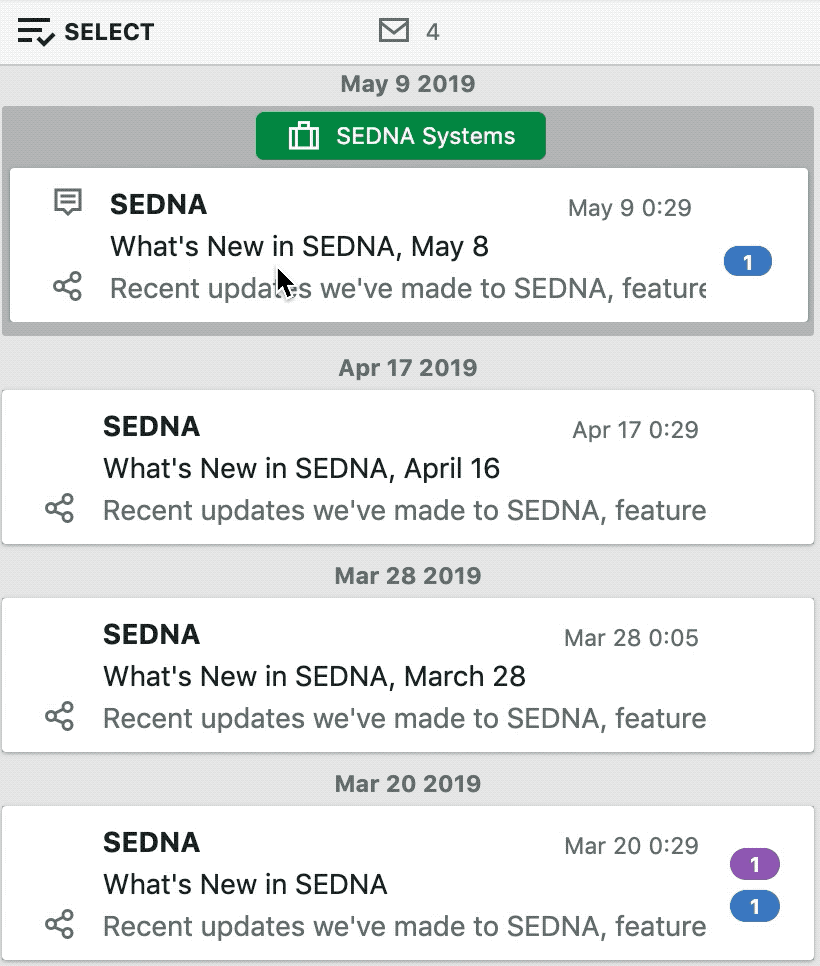 2. Click on "Select" in the top right of the Message List. This is more beneficial if you want to select a few non-contiguous messages. Note that shift + select will work in here as well. 

Either of these options will bring up the Bulk Action bar and the Archive All feature.
Bulk Actions
From the Bulk Actions bar you can perform the following actions on a single message or multiple messages.
Tag
Apply a Category Tag, People Tag or a Job Reference Tag to your message(s).
Follow
Following a message(s) will place that message in the My Messages and Follow Tabs in the Filter Bar. This allows you to track important messages that you still need to action or just want to keep a close watch on.
Archive
Archiving the message will remove it from your Inbox and move it to Archive.
Clicking to Unarchive messages will remove the selected messages from Archive and return them to your Inbox. They will also be restored to your My Message or Follow tabs if you are following them, or they meet the My Messages criteria.
Share
This will open the composer and create a link to the selected message(s), which will be pre-populated in the message body.
Download
This will allow you to download the EML of the selected message(s).
Delete
This will allow you to delete the selected draft message(s), this function does not work on normal messages.
Archive All

When clicking "Select" from the Inbox you will have the ability to use the Archive All feature. From the Archive All dropdown you can do the following actions:
With Job References
This will archive all messages in the inbox that have a Job Reference applied to them. This cannot be undone. To archive messages belonging to a particular Job Reference use the search and archive functionality.
Assigned To A User
Read By Me / Others
Read By Me
All But Last 12 Hours
All But Last 72 Hours
With Category Tags