The Activity Panel is a key point of collaboration in Sedna. In addition to seeing things like when someone read a message, who shared it or who commented on it - you can now see an audit of manual tagging events.
How to turn on the User Tagging Log
1. Click on the activity panel within a message
2. Click on the gear-icon on the top right-hand corner
3. Check the box for "User Tagging Log"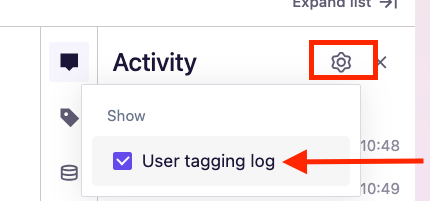 The Tag Audit Trail shows a record of how Job Tags and Category Tags are manually added to a message. This provides transparency on how mail is being categorised and actioned across teams.
What is indicated by the Tag Audit Trail in the Activity Panel:
Who added a Job Tag or Category Tag

When it was added

Who removed a tag

When it was removed

What the tag is called

What type of tag is it (indicated by their colour)
What is not supported:
This feature currently does not audit the activity of Private Tags or Person Tags

It does not audit the

automatic

addition/removal of tags - just manual activity from users

The tag icons in the Activity panel are not clickable