How To Setup Mail Forwarding For User Mailbox or Shared Mailbox To Forward Emails to SEDNA– Exchange Online (M365)
Login to your Exchange Online – Exchange Admin Center - https://admin.exchange.microsoft.com
Click on Contacts under Recipients.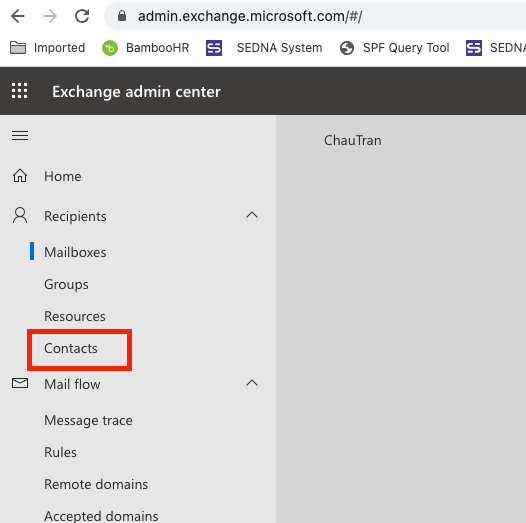 Click on Add a mail contact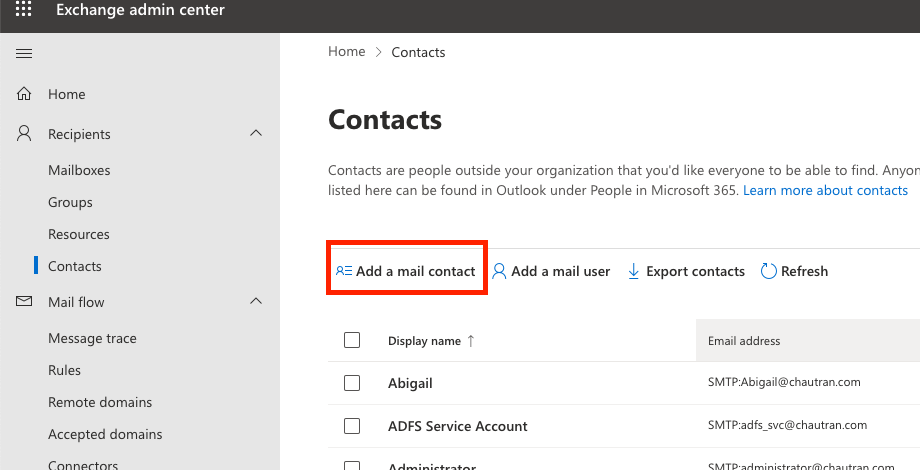 Fill in the information required and click Next, Next and Create to create the contact.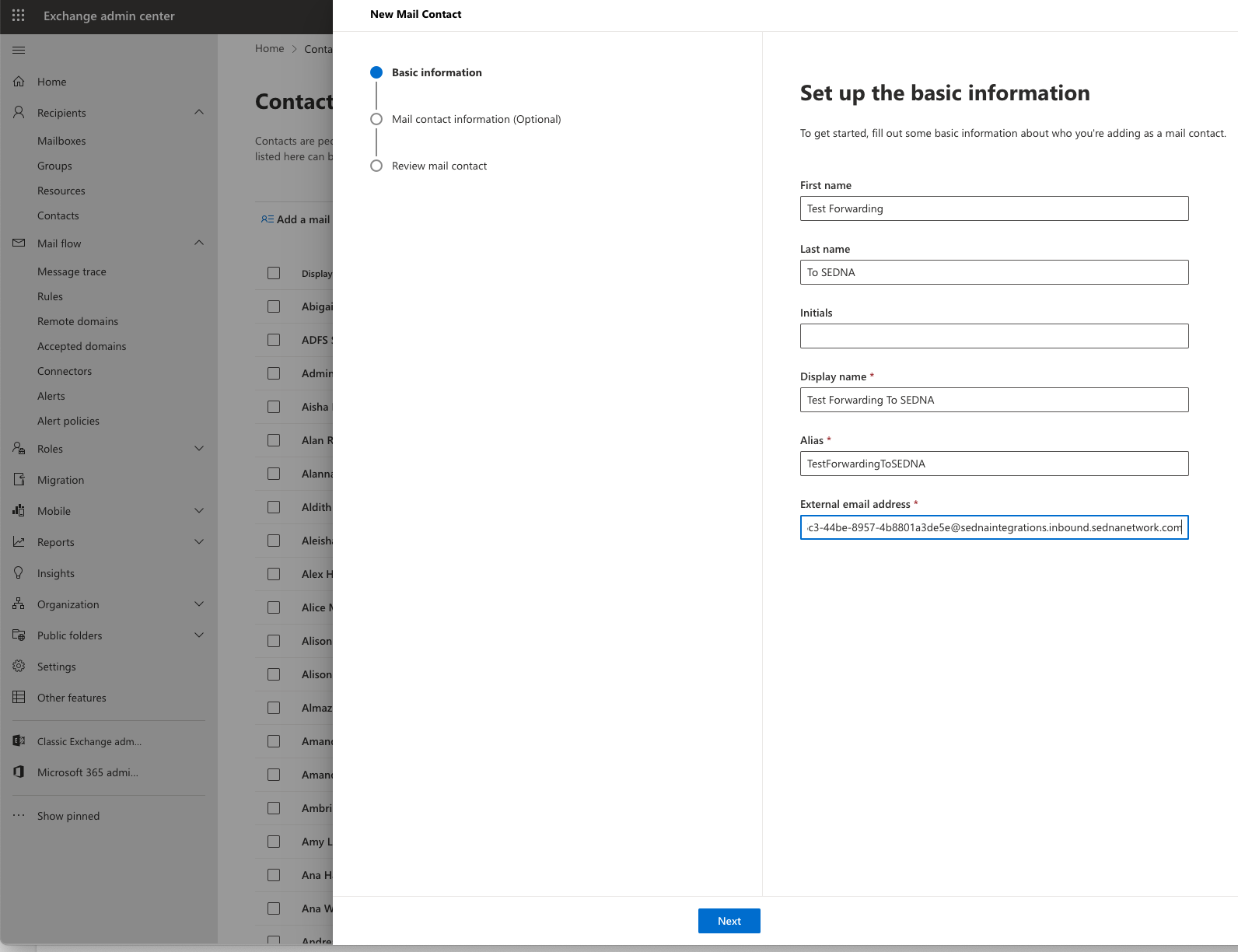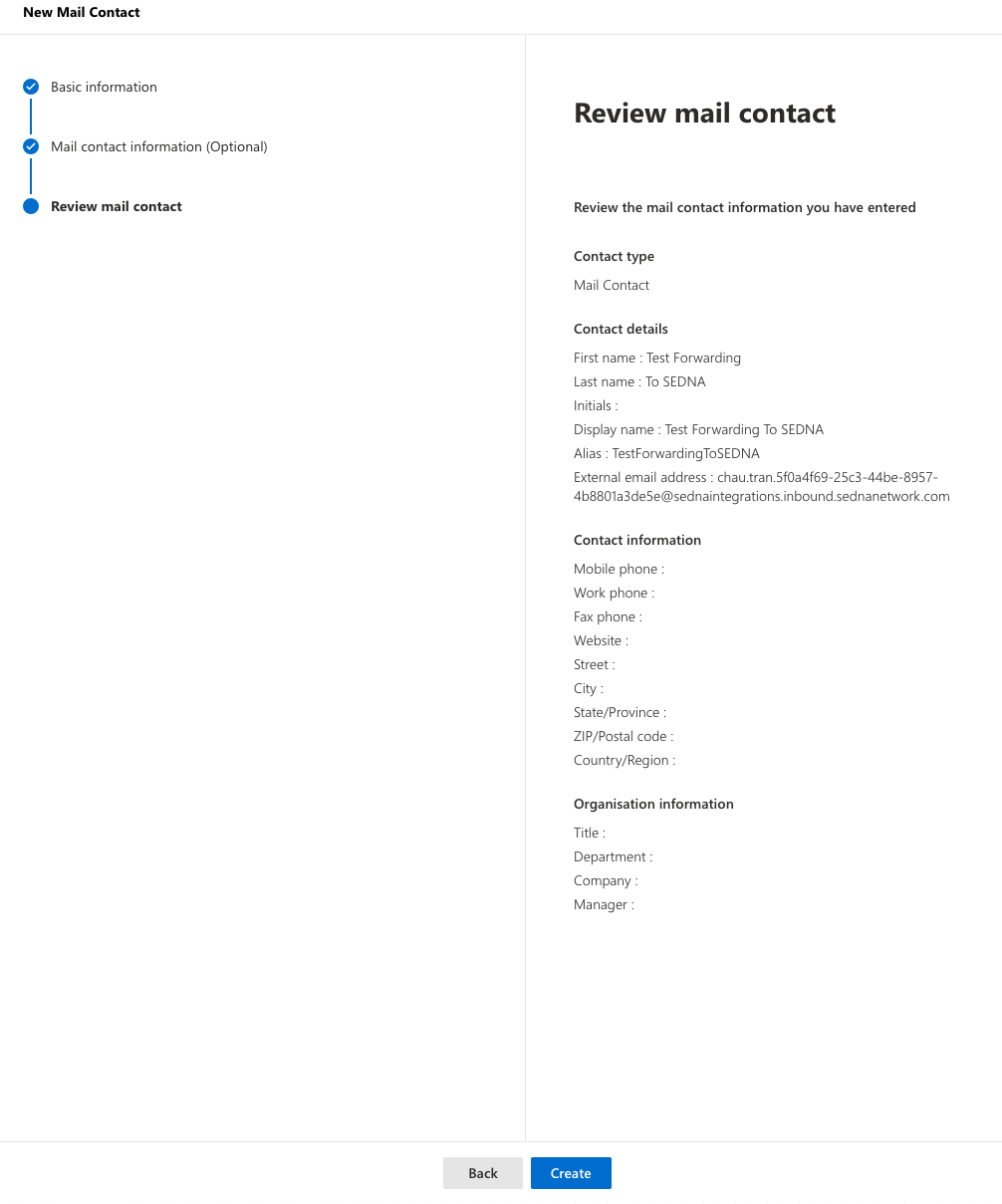 The External Email Address is the SEDNA Ingestion address for the Solo or Team Inbox.
NOTE: You may need to allow some time for the contact to be created before you carry on with the next steps.
Click on Mailboxes under Recipients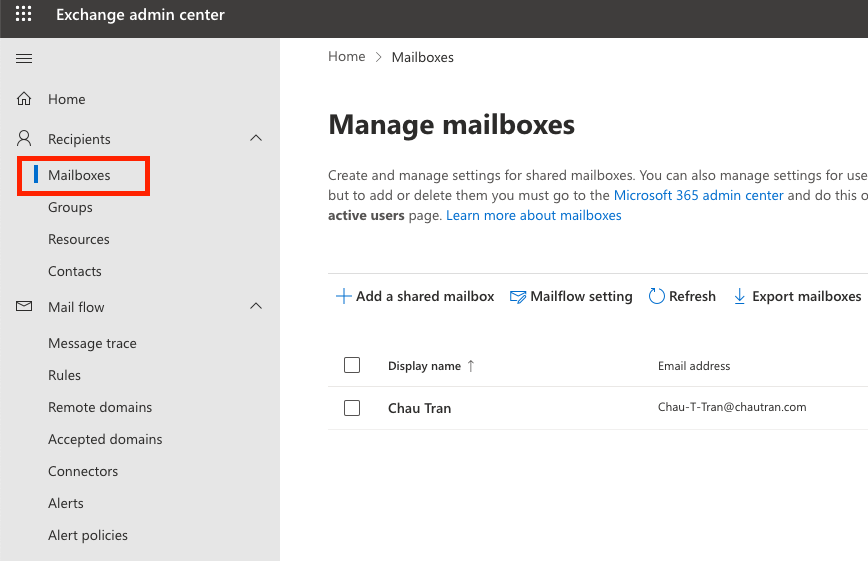 Do a search for the intended mailbox (if you have lots of mailboxes), and click on the mailbox and click on Mailflow setting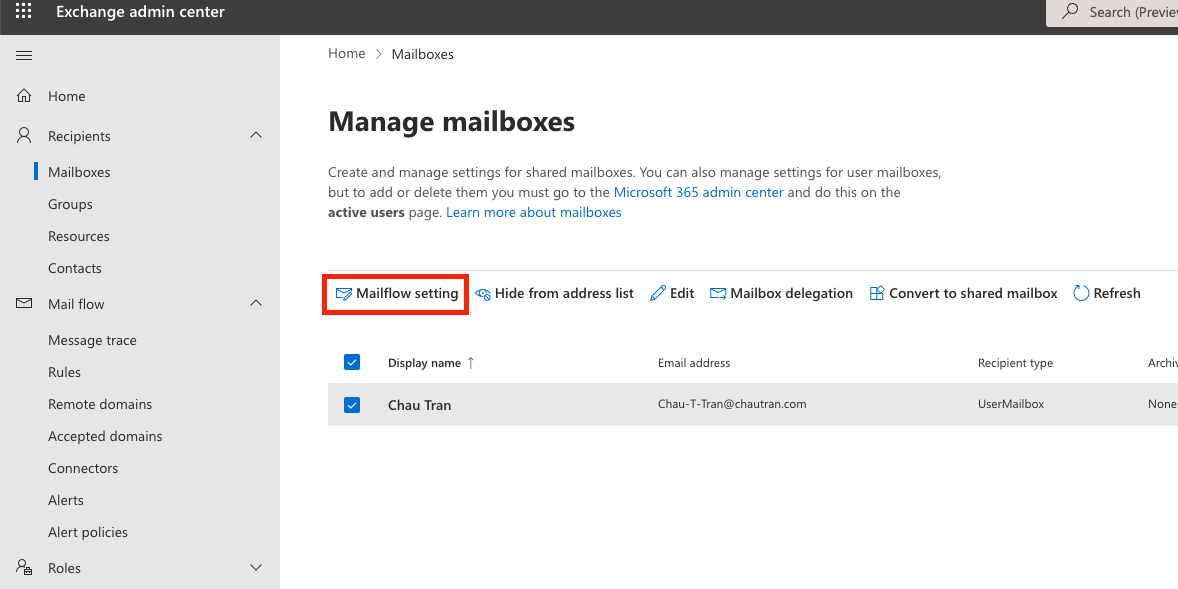 Choose Email forwarding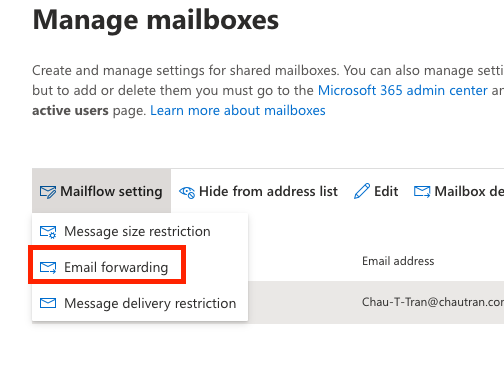 Enable Forward all emails sent to this mailbox, add the mail contact that you have created for this user and click Save. It is recommended that you tick "Keep a copy of the forwarded email in this mailbox" for legal and compliance reasons. If there's no need to keep a copy of the forwarded in the user's mailbox, then you can leave this option off.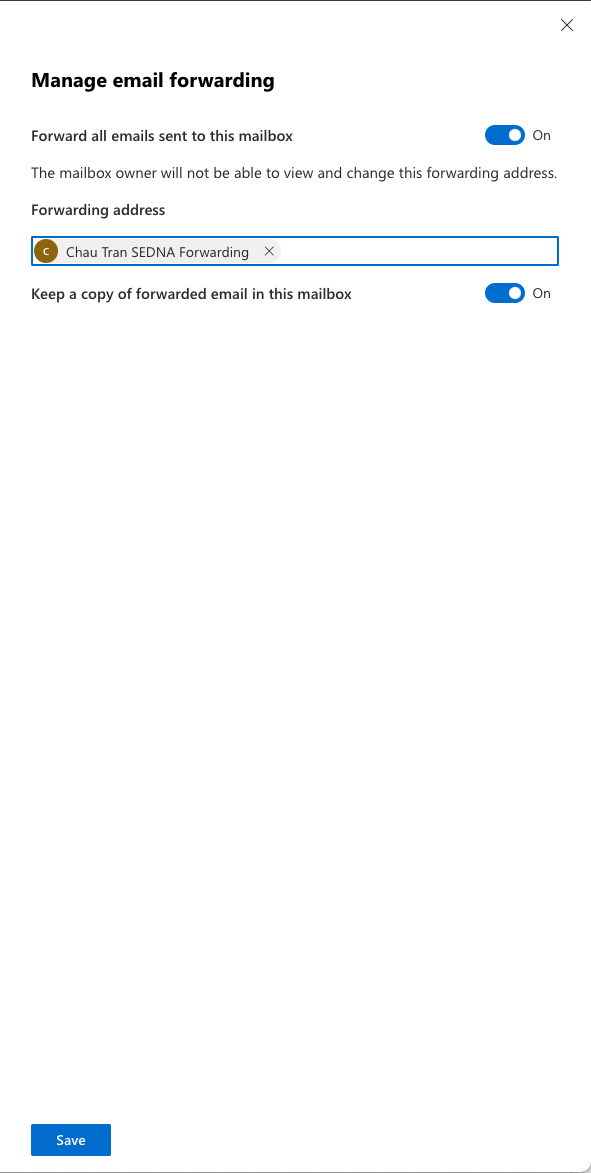 NOTE: It may take up to 5 minutes for the changes to take effect.
If your Exchange Online organisation does not allow External Forwarding, you will need to allow external email forwarding via https://security.microsoft.com/antispam
Click on Anti-Spam outbound policy and set Automatic forwarding rules to On and click Save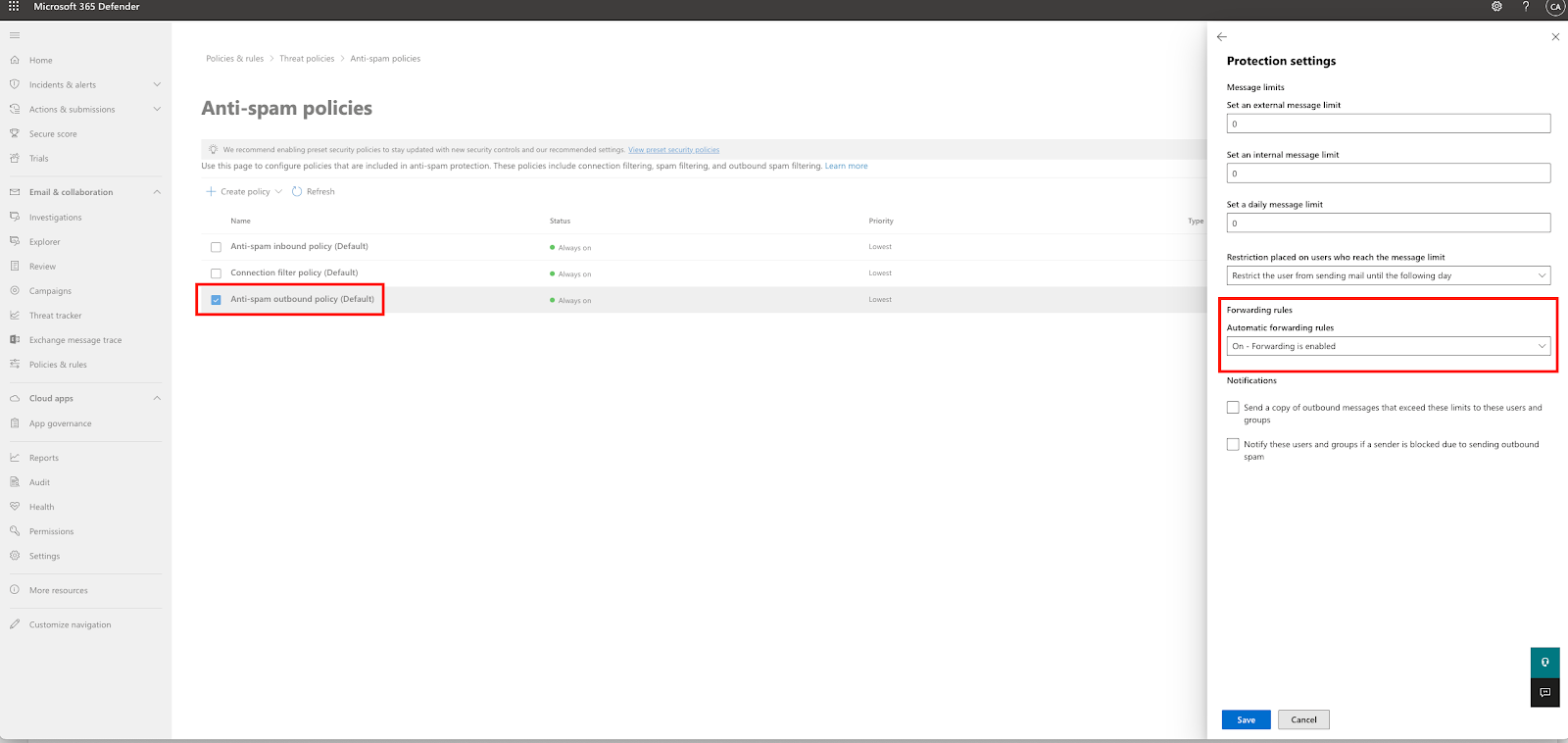 NOTE: Please allow some time for the changes to take effect.
The above setting will enable external forwarding for the entire tenant, if this is a security issue to your organisation you can restrict and allow certain remote domains to be allowed for external forwarding via the Exchange Remote Domains settings:
On the Exchange Online - Exchange Admin Center - Go to Mail flow and Remote Domains - Edit the Default Remote Domain and Disable Automatic Forwarding

Create a remote domain with your SENDA domain - <SEDNATenantName>.inbound.sednanetwork.com and allow automatic forwarding. For example:

The above will now block automatic forwarding to all external domains except for your SENDA Remote Domain. i.e. it will now block all external forwarding and allow only external forwarding for your SEDNA Remote domain.
More information regarding External Forwarding can be found here.
If you need to control a certain email address rather than an entire domain for external forwarding, you'll need to contact Microsoft Support for assistance.
If the above setting is not turned on or not configured correctly, there's a good chance that the forwarded emails to SEDNA will be blocked via the Exchange Online Outbound Anti-Spam default policy or the Remote Domain policy and NDRs will be sent to the user's mailbox for every message that failed to be forwarded.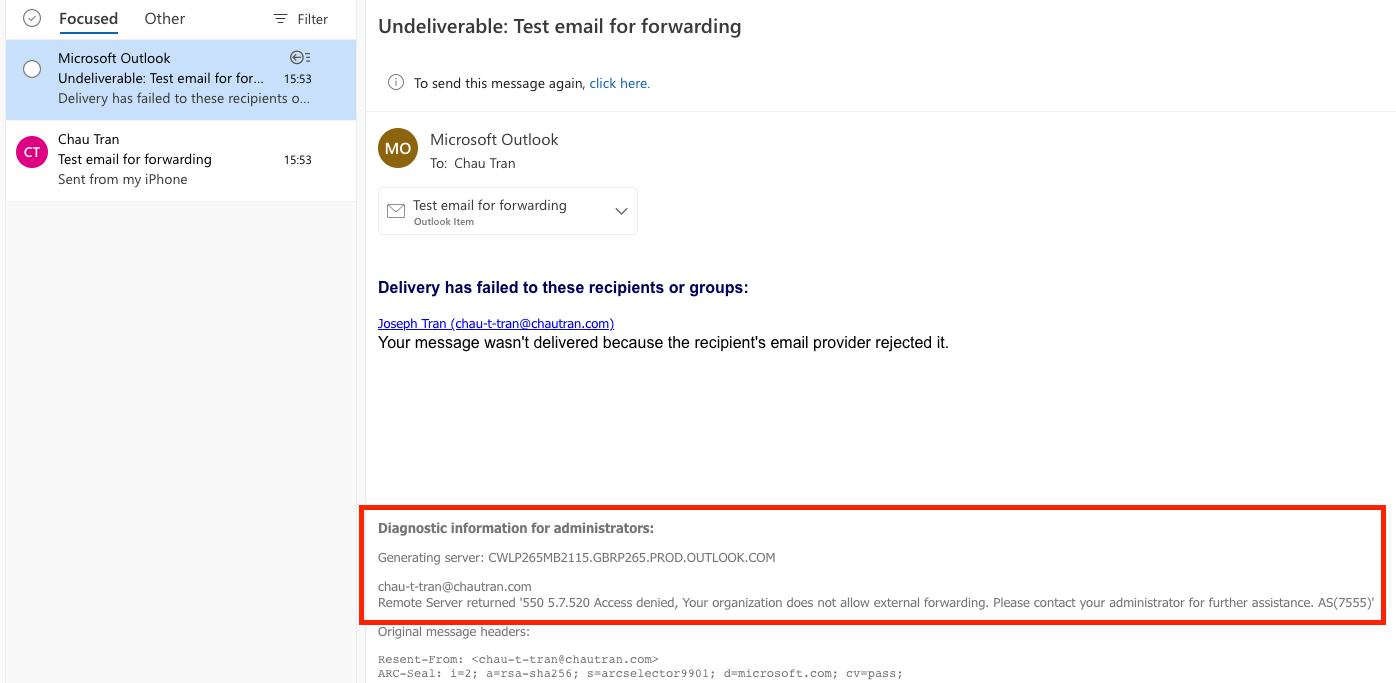 More information on External Email Forwarding can be found here.
NOTE:
Once the above is working for one user, you can repeat the steps above for all users that require emails to be forwarded to SEDNA.
You only need to enable External Forwarding once for your O365 tenant or/and a remote domain.
The above steps apply to Teams that are using Shared mailboxes.
If you are using a Secure Email Gateway, you may need to allow External Email Forwarding in addition to the steps above. Please contact your Secure Email Gateway provider support to allow this External Email Forwarding function.
SEDNA does NOT support Inbox Rule email forwarding.
The steps and screenshots above are based on the latest Exchange Online - Exchange Admin Center (at the time of writing of this document), if you are not using the same version of the Exchange Online – Exchange Admin Center, the steps may vary but ultimately the objectives are the same.