SEDNA Notifications can notify you proactively about information that matters to you when you subscribe to a Bucket. You can control which buckets send notifications to your devices by toggling the Notification bell icon on a particular Bucket.
Smart Push is a rule-based engine to define what you want to be notified about. You can choose to monitor for particular keywords, senders, tags: anything that can be expressed in a SEDNA search. This allows you to tailor your notifications to learn about what matters most.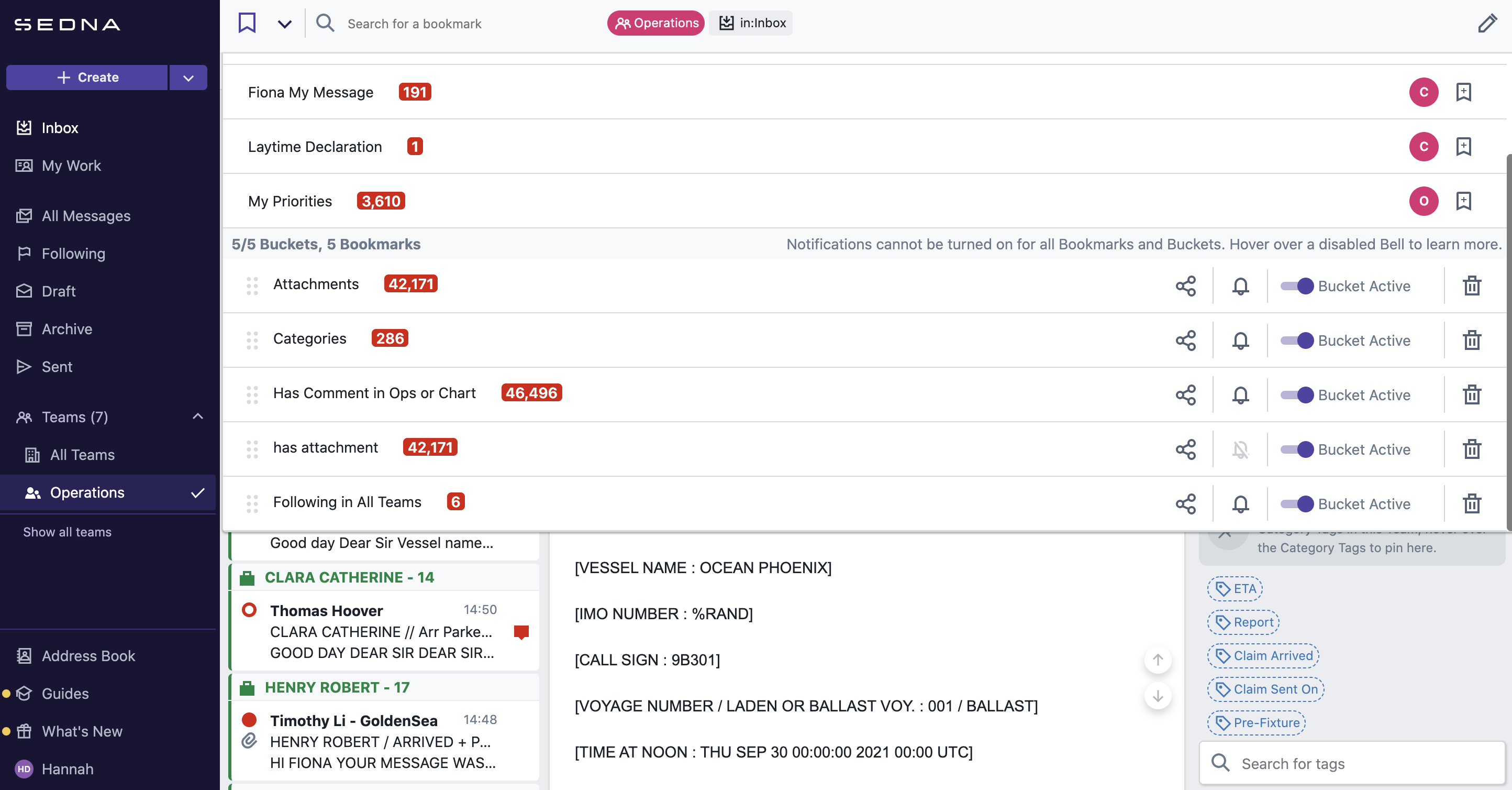 Users will be notified of all tagged messages or updates from a bookmarked search after notifications have been enabled. For example, if notifications are enabled on June 17th at 9:00AM, users will be alerted to all unread tagged messages and results from a bookmarked search. Users will not receive notifications on messages that have been tagged or received prior to that date and time.
Note: For SEDNA Notifications to work, notifications must be enabled on your browser and device. Desktop notifications are currently supported on Chrome and Firefox only.
Creating a Bucket to Receive Notifications
Create a Bucket to Receive Notifications
Create a search with a team token by typing the terms into the search bar or selecting the teams from the sidebar. Your search will automatically be created using your default team, unless modified using Team Tokens. In the example below, a search is being created for both the Operations and Chartering teams.
Create a Bookmark for the search you just created by clicking the Bookmark icon to the left of the search bar. In the example below, a Bookmark is being created for both the Operations and Chartering team with the terms 'Has Comment'.
Activate the Bookmark you just created as a Bucket by toggling the option next to its name and clicking the Bell icon.
Ensure notifications are enabled for your device by clicking your name in the bottom left of the SEDNA window, and then into the Settings > Notifications page. The Notifications page will show which devices have notifications enabled, and allow you to send a 'test' notification as shown below.
If notifications are not yet enabled on your device, you will receive a pop-up that will ask you to do so.
Note:
If you are working within the SEDNA app on your mobile device when a notification comes in, you will not receive a banner notification. You will only see the red number in the Bucket.
Setting up Notifications for Desktop and Mobile is the same process as outlined above.
Notifications do not work using the My Messages token. Users must use a different Team Token.
Troubleshooting
If you are still not receiving notifications after setting them up in SEDNA, please refer to the appropriate device or browser article below regarding device notifications:
If you are experiencing issues with notifications on your Mac desktop and you are using Google Chrome:
Click the Apple icon in the top left of your screen.
Go to 'System Preferences' from the drop-down menu.
Go to 'Notifications' and find Chrome.
Ensure that 'Allow Notifications' is enabled and that all appropriate boxes are checked.
Note that there will be 2 Chrome options as pictured above, so you must ensure that this process has been done for both.